I love events like this… you show up, get free information, classes, repairs and prizes and leave knowing that you are a better homeowner. What could be better than that? The Fix-It Fair is a FREE City of Portland event where you can learn simple ways to save money and connect with resources. Join your neighbors and talk to the experts about how to spend less and stay healthy. Fix-It Fairs in Portland are coming up:
November 22, 2014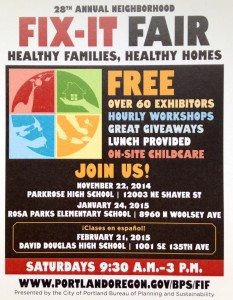 Parkrose High School
12003 NE Shaver St, Portland, OR 97220
January 24, 2015
Rosa Parks Elementary School
8960 N Woolsey Ave, Portland, OR 97203
February 21, 2015
David Douglas High School
1001 SE 135th Ave, Portland, OR 97233
What will you find and learn at a Fix-It Fair? Ongoing exhibits and hourly workshops on such topics as:
Water and energy savings
Safe and healthy home
Food and nutrition
Neighborhood and community resources
Recycling
Weatherizing your home
Gardening and growing your own food
Yard care and composting
Transportation
Plus:
Free lead blood testing
Free giveaways
Hourly door prizes
Free professional childcare
Free lunch
Free minor bike tune-ups and flat tire repair for students and families
For more information or to receive email notification for future Fairs call 503-823-4309 or email fixitfair@portlandoregon.gov
Visit Fix-It Fair on Facebook to get more information from them and the community.
Visite nuestra página web en español.